Feral Hog Removal Program – North Florida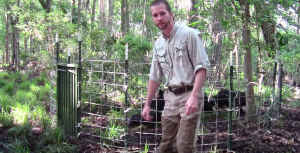 Feral hogs can be a very stressful issue that's why Quick Catch is here to help.
Wild hogs are one of the most smartest animals on the planets and learn quickly which is why it is important to get them caught on the first attempt as they will learn what to avoid from getting captured. This is why it's best to leave the efforts to professionals that know how to catch them on the first try.
Wild feral hogs carry a lot of diseases including tuberculosis, rabies, e coli and a several other diseases.
When considering hiring Quick Catch, know you will be hiring a a team that has had the success of trapping over 2,000 feral hogs with 100% success.
If you leave one hog behind it could create a larger problem as the hog can have babies and train her offspring to avoid the traps making the situation much more challenging to eradicate.
We use video cameras to monitor and the best trapping equipment and technology that can be accessed remotely via cellular service increasing our efficiency and success.
You may find people willing to offer the services at a cheaper rate, however if they don't have the level of experience or track record of success they may unknowingly make the problem worse and more challenging to solve later which will cost much more than any money saved.
Hogs can create thousands of dollars of damage in just a brief time. If you or anybody you know ever encounters any problem with feral hogs or wild pigs please contact Quick Catch to solve the problem quickly and efficiently.
Tags: animal removal, wild hogs, wildlife videos
Read more posts from the Category Feral Hogs, Wildlife Removal.