Pigeon Removal Company in Jacksonville Prevents Pigeons Too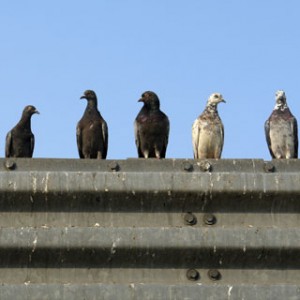 A pigeon technically can't make you go insane but it can make you go coo-coo.
Pigeons are a real nuisance and also are very messy birds.  One of the big dangers of pigeons are their droppings. There are three diseases that the health departments have found in the pigeon droppings including:
Histoplasmosis
Psittacosis
Cryptococcosis
One could contract the diseases by inhaling the fungus or bacteria from the feces when cleaning up their dropping. Luckily this the dangers are minimal if you're not handling the droppings directly however pigeons can be a real nuisance and also hazardous to your living environment. Whether they are roosting in the attic of your home or office, or even just flying around outside, it is important to get them under control before there is a larger problem.
Quick Catch is a Pigeon Removal company in Jacksonville, Florida and offers professional bird removal services to surrounding North Florida areas including, Duval, St. Johns, Clay, Putnam, Baker, Nassau counties. We service both commercial and residential customers.
We also offer Pigeon Prevention services to ensure new pigeons or other pesky birds don't come and take their place. IF you have a bird problem, don't get mad, get Quick Catch and have it resolved in little time.
Read more about Pigeons and Pigeon Removal
Read more posts from the Category Wild Animal Stories.